Historic Transit Car No. 25 Opens Its Doors To Riders In Lakewood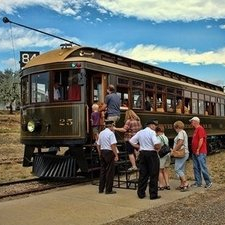 All aboard! Free rides will be offered on Car No. 25, which is an important part of Colorado history.
LAKEWOOD, CO — Those who wish to experience a piece of Colorado history can hop aboard a trolley that was once part of Denver's extensive electric transit system. Lakewood Heritage, Culture & the Arts is inviting riders to hop aboard the restored Denver and Intermountain interurban Car No. 25 this month at the Denver Federal Center.
This annual event includes free rides on Car No. 25 (weather permitting), the presentation of histories from original riders of the car, a display of historic photographs and lunch available for purchase. Queen City Jazz Band will play from noon to 3 p.m.
Riders can hop aboard the trolley from 10 a.m. to 4 p.m. on Saturday, Aug. 10 at the Denver Federal Center Building No. 78. Adults must provide a government photo I.D. to enter the trolley and pets aren't allowed on board. Donations will be gratefully accepted, the city said.
Car No. 25 was once part of Denver's extensive electric transit system that included more than 250 miles of track connecting Denver and Lakewood with Golden and Boulder. The trolley was built by Denver's Woeber Carriage Company and placed into service in 1911. It was one of seven cars that provided passenger service on the 13-mile Denver-Lakewood-Golden line from 1911 to 1950. With the proliferation of the automobile and a new bus system, rail transit service was abandoned in 1950.
In 1988, the Rocky Mountain Railroad Club Historical Foundation committed to a 22-year mission to restore Car No. 25, which is the last remaining, completely intact electric railway car that once served the Denver area. The trolley is now owned by the City of Lakewood and is listed on both the State Register of Historic Properties and the National Register of Historic Places.
Lakewood Heritage Center staff will be available Aug. 10 to gather visitors' stories of riding the trolley when it was active. Staff are also hoping to speak with any employees who worked at the Denver Ordnance Plant or Federal Center in the 1900s.
https://drmac-co.org/wp-content/uploads/2019/09/interurban-car25-passengers___01160510091-e1567453567638.jpg
225
225
Coleen Samuels
https://drmac-co.org/wp-content/uploads/2019/12/DRMAC20logo1.jpg
Coleen Samuels
2019-08-04 19:42:01
2019-09-02 19:46:27
Historic Transit Car No. 25 Opens Its Doors To Riders In Lakewood